How This Audio Engineering School Helps High School Graduates Gain a Skill for Life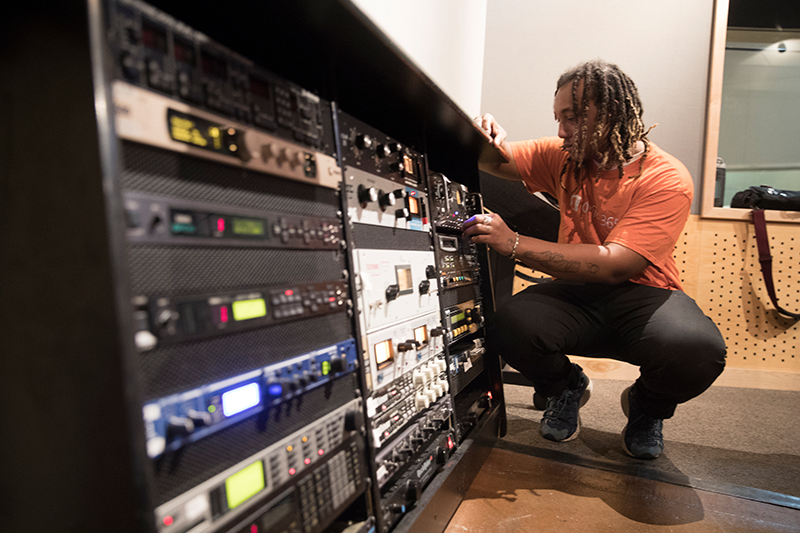 Graduation season is upon us. Many students are exiting their safety net of High School (and even traditional College) in hopes of steering themselves towards an exciting life built on doing what they're passionate about. If you're here, reading this, it's likely that your passions are based on music… on sound… on audio… on being able to make a way for yourself making sonic magic happen for your clients.
The world of Professional Audio is far wider than most can imagine. While most people see it as the Music Industry, the truth of the matter is that the "music" side of things is just a piece of the amazing opportunities that exist. Let me give you a few things to think about:
Ever wonder who made your car door "ding" when it was open?
Ever wonder how the sound of your videogames came to life?
Ever wonder how hundreds of sounds make their way through your television?
Ever wonder how that helicopter whizzes around your head at the movies?
Ever wonder how you're hearing everything at a concert?
Ever wonder how that voice does that "thing" on your favorite song?

At the Conservatory of Recording Arts and Sciences (CRAS) we don't wonder about these things. We help students create a life in Pro Audio for themselves that others will "wonder" about. See, in order to be taken seriously in this "world," YOU must have a serious education.
It's not like it might have been in the earliest days of Audio, where you landed a broom-pushing job at a studio and worked your way up, while learning from those that had been at that facility for some time. Today, client's needs are very demanding, and deadlines are constantly looming, so all facilities now seek employees that can prove a "NOW knowledge," and a "ready to work" skill set. So, how do YOU get there? Easy, you need to shift your educational direction towards Audio Recording Schools, like CRAS.
Even though CRAS is a "school," students here celebrate the fact that their math and science skills are pointed towards their passions. Yes, it's a "real" school, but imagine amassing a world-class education by way of making sense of equations that are actually twists of knobs, the striking of buttons, the moving of faders, the navigation of software, the positioning of microphones, the placement of speakers, the manipulation of sounds with effects, the controlling of signals with dynamic processors… and on top of that, putting that knowledge to work in 13 world class recording studios!
CRAS readies our students by giving them the opportunity of never being able to say "no" to an audio opportunity. For example: Like YOU, most of our student want to "live" in the Music Industry, mixing and mastering music for high profile clients. Although that is quite the romantic dream scene, YOU might get your FIRST BIG OPPORTUNITY by holding a microphone over an actor's head on a movie lot, networking with all the other Audio folks on the set. Or, while you pursue Video Game Audio, you might get the call to help live-stream a major concert event. Maybe while you work on getting into Post Production, your big break happens when your classmate needs help on finishing a record in a major Recording Studio. Seriously, these kinds of loop-d-loops happen for our students all of the time. Why? I'm glad you asked…
It's because at their time at CRAS, they were immersed in all 5 Disciplines of Audio Engineering:
Music Production
Live Sound Reinforcement
Video Game Audio
Post Production
Broadcast Audio
It's amazing how much opportunity can come from a skill like Audio Engineering. All kidding aside, the science and math that it takes to beautifully record an amazing vocalist is the same math and science that it takes to broadcast a NASCAR race. The reason that CRAS stands head and shoulders above other Audio Recording Schools is that it prepares its' students for the ENTIRE FIELD OF PROFESSIONAL AUDIO ENGINEERING!
Once our students gain this new set of "smarts/skills," CRAS helps create their route to success through our 280 hour Internship program, where exiting students choose where they want to start their "audio life," and, most importantly, in what "discipline" they want to first venture into.
YOU might find it hard to believe, but people like YOU, EVERYDAY, join CRAS and are working in the Audio world within a year's time. Now… can YOU imagine living your passions in Audio Engineering? What does it look like? Does it look like this? www.cras.edu If you're still reading this, then CRAS is sure that your future in Audio Engineering starts here! We're ready to connect you to that DREAM, so contact us NOW at (800)562-6383.