From Analog to Digital, get your hands ON the gear and software used in professional studios throughout the world
Consoles
Within our 13 world class studios, you'll find consoles that span the entire width of the industry. Training in our studios, and on our consoles, will provide you the ability and comfort of being able to work in any environment.
Solid State Logic SL4000G+
SSL Origin
API Legacy Plus
Avid S6 Control Surface
Solid State Logic AWS 948 Workstation
System
SSL SL4000E
Studer Vista 5
Studer Vista 9
Avid Digidesign Venue D-Show
Midas M-32
Yamaha MG16 (X2)
Calrec Sigma 100
Monitors
With our extensive connections to the industry, we have outfitted our Control Rooms with Reference Monitors, from entry level to exquisite, from many manufactures, so that you can learn to hear every detail with accuracy.
Genelec 1031A (x2)
Yamaha NS-10M (x2)
Tannoy TSM (x2)
KRK VXT8 (x2)
Tannoy Subwoofer
Tannoy Reveal (x2)
Genelec 8050A
Yamaha NS10M
M&K MPS 2510PK (x5)
M&K MP950 (x4)
Hafler TRM12 Subwoofer (x2)
ATC SCM25A
Tape Machines
Analog Tape Machines are held in high regard in Music Production for their sonic signature… truly a sound that many Engineers and Producers seek when looking for that certain sound. At CRAS, you will experience how to handle a tape machine, and align it, for high level sessions.
Studer A 820
Studer A 827
Otari MTR 90
Machine Rooms
At CRAS, our Machine Rooms are outfitted with all of the necessary gear to synchronize major components of the Control Rooms, and to capture and reproduce audio in the digital realm.
Avid HD Interfaces
Digidesign Sync HD
MOTU 16A (x2)
Motu Midi Timepiece
Brainstorm Electronics Inc SR-15 Time code Distripalyzer
Digidesign Sync HD
Digidesign 96 I/O Interface (x3)
Mics & Other Equipment
From vintage to cutting edge, our array of microphones/outboard gear will help you capture the sounds that you seek. Working with many manufacturers, CRAS has built a microphone/outboard gear collection that parallels what you will find in major production facilities, putting you at ease in any facility you enter.
Pro Tools Lab – Tempe Campus
Apple Mac Pro Quad Core (x6)
Pro Tools HD1 (x6)
Digidesign 96 I/O Interface (x6)
M-Audio Oxygen 8 Controller (x6)
ART DPSII Tube Preamps (x6)
Mixdown Lab– Gilbert Campus
Allen and Heath GL 2400 24x4x2 (x10)
TC Electronic M3000
Samson 4 Channel S-Gate
Behringer Composer Pro-XL MD 2600
Project Office – Gilbert Campus
Macbook Pro
Panasonic DVD S-25
SM Pro Audio PR8
Line 6 Pro Pod
Digidesign 002 Rack
Presonus Eureka Pre Channel Strip
Behringer Composer MDX 2100
Emagic Unitor8
Behringer Composer Pro XL MDX 2600 (X2)
Behringer Ultragain Pro8 ADA 8000
Alesis D4
Yamaha SPX90
Sony Record Player
Digital Lab – Tempe Campus
Novation Ultranova 3 octave keyboard
Dave Smith Instruments Mopho tabletop analog synthesizer
Simmons SMPD1 drum pad controller with integrated drum machine
Roland Gaia SH-01 3 octave modeling synthesizer
Alesis QS 6.2 5 octave keyboard with multi-timbral sound module
Korg Triton 5 octave keyboard with multi-timbral sound module
Mic Locker – Tempe & Gilbert Campus
AEA R84
AEA R92
AKG C414 B-ULS
AKG C414 TL-II
AKG D112
AKG C 1000 (x2)
AKG 451 E Omni
AKG 451 E Cardioid
AKG C451B
AKG C1000S
ALESIS AM52
Apex 460
Audio-Technica AE3000
Audio-Technica AE5100
Audio-Technica AT3525
Audio-Technica AT4031
Audio-Technica AT4041
Audio-Technica AT4047
Audio-Technica AT4051
Audio-Technica AT4050
Audio-Technica AT4060
Audio-Technica ATM23HE
Audio-Technica ATM25
Audio-Technica AT33a
Audio-Technica AT41HE
Audio-Technica AT61HE
Audio-Technica ATM450
Audix D2
Avlex AVS20
Avlex AVS21
Avlex AVS22
Avlex AVS77
Avlex CI35
Beyerdynamic M-88
Blue Ball
Blue Blue Bird
Blue Omni Mouse
Blue Bottle
Blue Bottle Rocket Stage 1 B0 Capsules
CAD Equitek E100
CAD M9 Tube
Earthworks TC30K
Electro-Voice RE-20
Groove Tubes AM30
Groove Tubes AM40
Groove Tubes VELO-8T
Groove Tubes 1B
Heil PR-30
Heil PR-40
Holophone H3-D
Marshall MXL-2001
Nady TCM-1050
Neumann TLM103
Neumann TLM127
Neumann U87
Neumann U87i
Neumann U89
Neumann M147
Octava MC-012
Octava ML-19
Peavey PVM-520
Realistic 33-922
Rode NT1
Rode NT3
Rode NTK
Rode NT4
Rode NT1000
Royer SF-24
SE Electronics SE 2A
SE Electronics SE 3
SE Electronics Gemini*
SE Electronics SE 2200 A
SE Electronics Z 5600 A
Sennheiser e602
Sennheiser e609
Sennheiser MD 504
Sennheiser MD 421
Sennheiser MD 441
Shure 849
Shure KSM 32
Shure SM7B
Shure SM57
Shure SM58
Shure SM81
Shure Beta 52
Shure Beta 57
Shure Beta 98
KSM313/NE
Studio Projects LSD 2
Superlux CM-H8A
Superlux ECO-H6A
Telefunken Copperhead CU29
Telefunken M80
Telefunken ELA M 260 Stereo
Telefunken ELA M 260 Tri Set
VTEL Omni
Yamaha SKRM100 Sub-Kick
Behringer Red Direct Box (Active)
Behringer D120 2-Way Direct Box (Active)
Countryman Direct Box (Active)
Director Direct Box (Passive)
Groove Tubes The Brick Direct Box (Active)
Inline Audio Direct Box (Active)
Klark-Teknik Direct Box (Active)
Rapco Direct Box (Passive)
Radial JDV Direct Box (Active)
Radial JDI Direct Box (Passive)
Silver Direct Box (Active)
Whirlwind Direct Box (Passive)
Apple Pro Apps Bundle
The Pro Apps Bundle is a collection of five industry-leading apps from Apple that deliver powerful creative tools for video editors and musicians.
Logic Pro X
Logic Pro X is an advanced music production application that gives you everything you need to create amazing music.
Final Cut Pro X
Final Cut Pro X is a huge leap forward for professional video editing. Powerful media organization features let you quickly browse, tag, and filter your files.
Compressor 4
This advanced encoding companion to Final Cut Pro X lets you customize output settings, speed up your work with distributed encoding, and easily package your creations.
Motion 5
Use this powerful motion graphics tool to create stunning animated 3D titles, fluid transitions, and realistic effects for Final Cut Pro X.
MainStage 3
MainStage is a live performance app that lets you take any sound from Logic Pro X to the concert stage.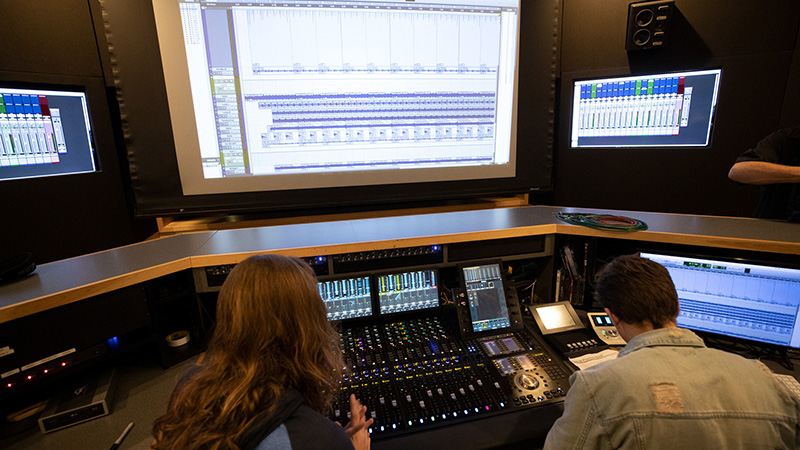 Dolby Atmos
Dolby Atmos expands the creative palette for artists and creators. Instruments and vocals can be isolated and articulated with incredible clarity.
iZotope
iZotope intelligent audio technology helps musicians, music producers, and audio post engineers focus on their craft rather than the tech behind it.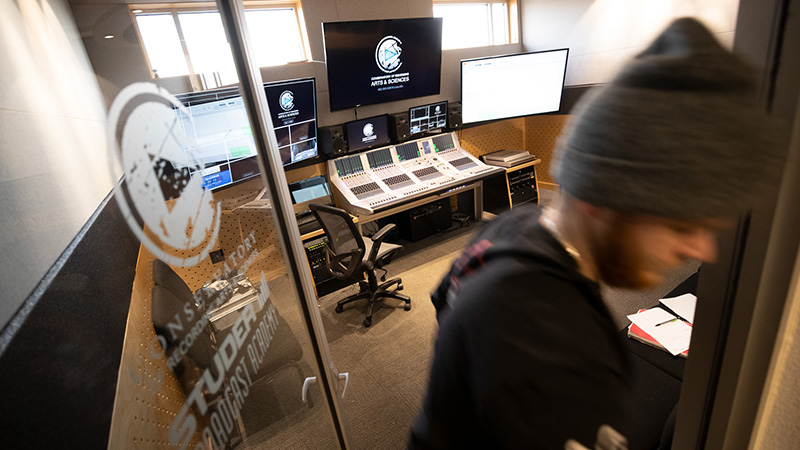 Studer by Harman
Studer is a worldwide leader in digital mixer technology and is a top choice for broadcasters, theater sound techs and house of worship audio engineers.
WWise
Wwise is the most advanced, feature-rich interactive audio solution for the gaming industry.